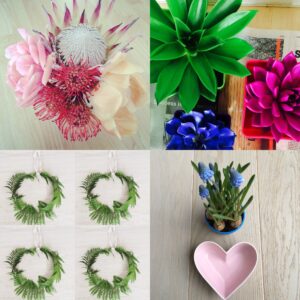 Hola!  A slightly belated Happy New Year!  It's been a soggy start to 2016 but hope that it's full of positive vibes and sunny outlooks for one and all!  After my dismal performance of regular blogging  in 2015 I'm (hand on heart) determined to up my game this year. What's more, I'm not only aiming to keep an online journal of my own flowery work but also curate information and useful advice on all things floral.  With that in mind I'm beginning with a forecast for what will be trending at wedding dos this year…colours, flowers, style and shapes.  And by the looks of it it's gonna be a goody!  The below does all come with a disclaimer that when it comes to your own big day then it's what makes your heart sing that counts. And if Pantone 13-1520 doesn't float your boat, that's cool with us!  Anyhoo….
Colour
There's some new kids on the block when it comes to this years palette, as Pantone announce that for the first time there are two – Rose Quartz, a beautifully soft pink and Serenity, a calm peaceful blue.  Together they offer the most delightful combination and are an interesting move away from pinks being paired with peach as we have seen for the last few seasons.  And for something altogether more fun, there are vibrant brights, Fiesta, Buttercup and Limpet Shell offer the opportunity for the modern urban bride to be more playful and less serious – after all the day is all about fun!  As the Executive Director of The Pantone Institute commented…'Colors this season transport us to a happier, sunnier place where we feel free to express a wittier version of our real selves.'  Can't argue with that, sounds great! (For full Pantone report visit www.pantone.com)
Bouquets
Bouquets have been getting bigger and bigger and continue to do so, both horizontally and vertically. The tight posy is gone for now, as the wild, natural, loose look dominates, for a freshly picked garden aesthetic.  We will also see interesting combinations of exotic flowers such as King and Pincushion Protea as well as exciting succulents such as Tillandsia (Air plants) paired with English garden varieties revived for the modern day bride, such as carnations and chrysanthemums….though there are still some that should be condemned to the garage forecourt forever more in my opinion, (I'm looking at you Gerbera).
Tablescapes
Tablescapes are also evolving, indeed the lone centrepiece is becoming a thing of the past…for now at least.  The circular table set up has been upstaged by the long elegant trestle, decorated with a variety of interesting vessels and non-floral accessories.  We see more and more of the achingly cool on trend terrarium filled with moss, stones and succulents, alongside single stem vases, long tapered candles and low level tea lights.  And if you avert your gaze upwards the decor is also hanging above with florals and foliage swinging freely above tables and dance floors, truly bringing the outside in.
Foliage
Foliage as a filler is no more, gone are the days when a bit of ivy was about as far foliage went.  Greenery was showing signs of stepping in to the limelight last year, with pure foliage displays creating, at once, a natural yet dramatic aesthetic.  The breadth of variety, shape and texture is a florist dream, and as well as being easy on the eye, using lots of foliage is also easy on the pocket.  From exotic palms to asparagus fern the choice seems endless, and I'm looking forward to see how far this trend will go.
It's all looking pretty damn sexy and I'm so excited about the events of 2016.  We've already provided brightly coloured arrangements in bronze churns for a special bridesmaid event and now looking forward to a beautiful Valentines weddng at the stunning countryside venue Dodford Manor.
So if you're a Bride or a Groom planning your own special day please do get in contact with me.
Jenny on 07985 413 353 or jenny@irisandblue.com ….I'd love to chat florals with you!