HI!
Almost 6 months in to 2017 and what a year so far.  We've witnessed events that are both shocking and heart breaking. Often times, it's been hard to think of the something so transient and fluffy as flowers.  Yet, amongst the dreadful sadness, there are still many causes for hope and wonderful reasons to celebrate.  This is a snapshot of some of the lovely events we have supported with flowers so far this year.
Interior Trends Event
We kicked off the year supporting an event in aid of the wonderful charity Hand In Hand for Syria. In collaboration with top babe and uber Interior Designer Sam Watkins McCrae.  Check out Sam's work at www.samanthawatkinsmcrae.com.  We dressed her Interior Trends Workshop at the fabulous Crouch End Picture House.  Any excuse to use greenery, we lined the trestle tables with on trend terracotta pots of luscious green ferns. Add in everyone's Spring fave, vibrant orange Ranunculi in little bottles and the look was complete.  The event raised £350 for the charity and we're looking forward to the next one in the Autumn.
Mother's Day
And then it was Mother's Day.  And there's no better reason to celebrate and smile. Yes, motherhood – powered by love, fuelled by coffee, sustained by wine!  It's no joke, it's a truth universally acknowledged and in this house it's my daily mantra!  It can be a tough gig this mummying.  But in all seriousness, never before has there been more of a reason to celebrate and commend the endless strength and capabilities of all women the world over.  Super heroines come in all shapes and sizes and Mother's Day is always the perfect way to honour your very own.
As you know we're a Floral Design company specialising in large scale events – weddings, parties, corporate dos etc, but for this once a year occasion we offer beautiful bouquets to the peeps of North London to send to their No.1 supporter.
This year our bouquet was a heavenly combination of the seasons finest blooms.  A peaches and cream number of ranunculus, tulips, and roses complimented with luscious greenery and grasses. An explosion of texture and style, everyone said they were truly perfect for their favourite girl!
Bat Mitzvah
And most recently, the coming of age for a special girl.  Ella celebrated her Bat Mitzvah in a gorgeous North London Italian restaurant.  The perfect teenage party, with mandatory photo booth and face painter as well as the prettiest jars of pink, lilac and green blooms.  Ella's mama, Andrea said, 'The flowers were beautiful and transformed the restaurant in to looking like a West End venue!. Everyone said how beautiful they were. Thank you.' What a pleasure.
Interior Plant Styling Service
As well as the fleurs we've been dipping our toe in to the world of house plants.  We've been banging the foliage drum for quite some time now.  Even before Pantone announced that Greenery was their colour of the year 2017 don't you know!  In fact I was reminiscing over the staircase décor we did for Verity and Ali's wedding 2 years ago which featured only Air plants and tropical foliage.  I think it was one of my all time faves.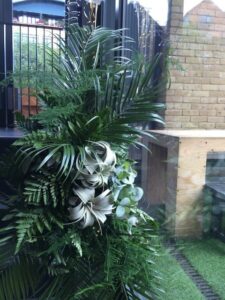 Foliage is ever present in all of my work. It's impossible not to notice the resurgence of greens for the indoor.  Nothing completes a room like a beautiful plant. They add colour, warmth and depth to even the most minimal of interiors. And what's more there are many books now available on how not to kill them!  As such we have begun to offer a bespoke plant delivery service to local North London residences.  We can suggest the most suitable plant for the space, hand select and purchase fresh from the market and deliver to your home.  In addition we can also suggest and buy beautiful plant pots for your plant to live in.  Below are a couple of images of jobs we have done recently.  Please note there is a minimum spend of £75 and a small delivery fee.
Now, settling down to planning the next few gorgeous events.  Highlights include a wedding in Northumberland, a Bar Mitzvah in the city, a late Autumn wedding at Hendon Hall and a Christmas wedding in Hampstead! Can't wait! xx