Wow, it's been a more than a hot minute since I last wrote a blog about flowers.  Yet, here we are, in Autumn 2023, about to launch our newest, most gorgeous bouquets to date.  This truly is the season I adore. The cheeky chill pinching my senses awake from the lazy, hazy slumber of this scorching summer.  Yep, I'm more than happy to cover up the fake tanned flesh and warmly welcome back the woolly jumpers, big boots and embrace the Autumn florals in all their deep, rich, textural glory.  Do have a peek at my Insta, www.instagram.com/irisandblue, for the new season's palette.
But back to the blog, it's going to be light, fun and full of useful hints and hacks about flowers, design, styling, trends and more.
For the warmup though, a quick zoom back over the highlights of 2022….
Burn baby burn….
Earlier this year, we were hugely excited to launch our first range of candles. Mini nudes in cream and taupe which are almost all but sold out. Sexy little stocking fillers anyone!?  Then grab a single, or a pair, of these last remaining slinky silhouettes.  Bums and boobs that are way too cool to burn, but look fabulous standing proud on your fireplace, dressing table, bathroom…I say pretty much anywhere.  Just like our flowers, they are packaged beautifully and so make the very best gifts.  Prices start at £18.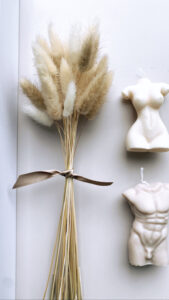 Forever after florals….
The trend for dried florals has been around for a while now, but we continue to create fresh and modern designs, with colour and texture perfectly balanced.  Here are a couple of the bespoke designs we've created for interiors shoots for Samantha Watkins McRae Interior Design studio. (www.samwatkinsmcrae.com)
Bottles 'N' Jars…
We continued our exciting collab with local wine and food emporium Bottles 'N' Jars, creating a bespoke florals collection just for them. We're super proud to see our flowers alongside luxury brands like Georg Jenson (and Tony Chocolony – Yummm!) (Bottles 'N Jars, The Hexagon, Great North Road, N2 www.bottlesnjars.co.uk) All bouquets are £20.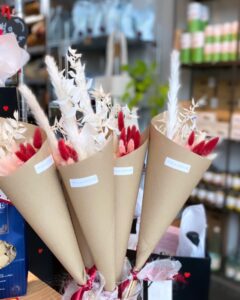 Event Florals…
What a joy to be flowering weddings again…Debbie & Ross eventually said 'I Do' at one of my favourite venues, St Stephen's Trust (www.ststephenstrust.co.uk).  While St Stephen's isn't South Africa where they were meant to be wed, after several covid cancellations, they decided to choose the UK where they live and work.  And what a glorious event it was….bold floral stands framed the altar, while Spring flowers danced along the tables with blush pink ester & erik candles for the perfect finishing touch. (www.ester-erik.dk)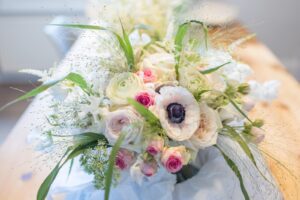 On that note, and in the spirit of looking ahead to flowering many more happy events, it came to me that I should 'pen' a piece about how I work with my clients, and what I can offer from the beginning to the end of the event story. So, for anyone looking for an event florist, this is us.
We are:
Boutique…
We're a boutique floral events and dried flower studio based in the heart of Highgate.  We're not a large corporate, we take on one event each weekend so that our clients are reassured that all of our care and attention is on them and their special day.
Personable…
We don't use an online form to garner information about your wedding or special event.  You're first point of contact is me, Jenny. I'm the founder and creative director and you can email or call me direct.  Even if it's just to say your getting married and have no other details – or if you have it all sorted and know exactly what you want – either way, that's cool with us.
Seasonal…
We only use fresh, seasonal flowers.  It makes 100% sense as it's both cost effective to buy in season as well as eco-friendly. That's if you want fresh – we also do dried flowers for events, both pros also apply.
Reasonable…
We take on all size weddings and our prices are fair and competitive.  We provide a breakdown quote, so you can see what each item costs and adjust your budget/flowers accordingly.
Creative…
We listen to your vision and produce mood boards for each floral piece with suggested flowers, colours, vases, candles and any other accessories. We work and amend the moods boards until you're happy.
100% Reliable…
We deliver and install all of the arrangements in a timely manner on the day and take away everything the following day, except the flowers which will be left for you.  We include the vases in the quote for you to keep and give out to your guests.
If we sound like the type of florist you'd like to flower your event we'd love to have an informal chat so do get in touch.
Email: jenny @irisandblue.com
Mob: 07985 413353
Instagram: @irisandblue
Thanks for reading and have a lovely day xx