All the good vibes were felt last week.  Sunday morning, coffee in hand, an email landed in my inbox.  It was from a lovely local lady to say they were getting married at Fitzrovia Chapel the following Friday.  However, they had been let down by not one, but two local florists! Yikes! Well, I was only too happy to step up, and take on the happy position of being their wedding florist.
Not only was this the quickest turn around I've ever done for a wedding, but I think also the most easy-going bride and groom I've ever had the pleasure of working with.  The brief – seasonal green and whites, natural in style, a tall arrangement for the altar, a small bouquet for the bride, a few hair flowers and a buttonhole.
Now, I do understand that some larger florists have a minimum charge for weddings. Smaller dos with fewer arrangements may not seem to be worth their time. I admit I have considered it myself.  After all, however small, there is still an element of planning, admin, selecting the flowers, preparing the arrangements and delivery.  However, one florist wouldn't even speak with them, told them to fill in a form.  And their chosen florist told them the week before their wedding that 'actually it just isn't what we do'.  Rude.
But not to dwell on that, as their loss was my gain. The flowers were delivered to the happy couple, getting ready together in their lovely North London home.  Looking forward to seeing some pro pics, but one of the joys of a small wedding was I actually had a bit of time to take some pretty shots myself.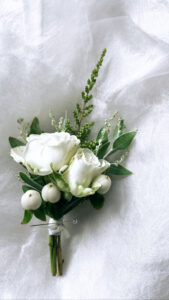 Brides and Grooms….for a boutique wedding experience with a florist that will definitely take the time to speak to you and will be 100% committed once engaged do get in touch. Have a lovely week. Jenny xx