Its been a busy summer so blogging has fallen off the bottom of the to do list again, despite my sincere and best intentions at the beginning of 2016 – and now it's almost the end of the year!  So, a quick whizz around the flower events of this summer…we flower bombed the beautiful wedding of Claire and Sachin at one of Hampstead's finest venues- St Stephen's Trust. Cafe Au Lait Dahlia, David Austin Juliet Roses, Quinty Dahlia and Blueberry Roses teamed with dreamy foliage – floaty Asparagus Fern and Panicum Grass, created soft, whimsical florals that Claire and Sachin said they 'had so many compliments about'!
Fast forward to end of August and our next wedding was a smaller, but no less stylish affair with Oliver Bonas Store Manager, Nick marrying his handsome beau Simon at the Covent Garden Hotel.  Nick and I met when he helped me to source some copper letters for Ali and Tim's wedding back in February – going above and beyond to track down an A, & and a T, he told me he was getting married in September and lo and behold, two weeks before the big day he asked me to create some cool modern centre pieces coupled with the couple favourite blooms, oriental lilies….see results…they said we hit the nail on the proverbial head!  And hot on the heels, a beautiful 50th Wedding Anniversary celebration in Highgate Village where beautiful glass bowls of yellow and creams decorated the tables for this intimate family affair.
And finally, amongst the gorgeous Spanish Gardens of Kensington Roof Gardens, the hugely anticipated wedding of Scott and Laura took place. Their only request was 'bright and no pink' (only Flamingos allowed!)  and so gorgeous Orange Romantica Garden Roses took centre stage in Laura's stunning bouquet, as well as in the smaller versions for her Maids.  Babe Spray Roses coupled with White Hypericum Berries and Thlaspi Green Bell complimented the Bridal Party Flowers.  A large vase dripping with orange, green and white florals illuminated the ceremony room while on the reception tables super cool copper terrariums filled with garden roses and handpicked British dahlias as well as little bronze pots (sprayed by me!) of succulents and cacti were the perfect centre pieces.
Now looking forward to creating beautiful bouquets for Rosh Hashanah this weekend.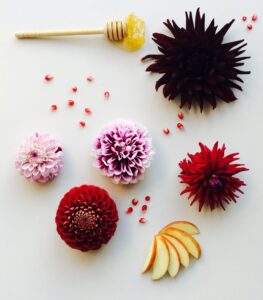 Email me at jenny@irisandblue.com for more details.
And after that…Christmas is coming! x